Heath Hauflaire
Product Design Director
115.1
Mobile Social & Commerce App
The Spirit of Giving
This was an app that enabled wealthy donors in first-world countries to give to missionaries in third-world countries.
Interviews
As this is not a world I am at all knowledgeable in, I conducted some interviews with people who have done missionary work to understand their actions and mindsets.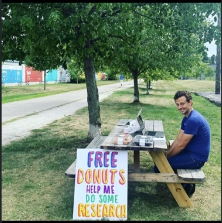 User Testing
Since this was a public-facing application, I conducted guerrilla usability testing on a busy urban pathway.